Mentorship Session with Students. 
Eng. Jane Mutulili held a mentorship session with engineering students. Kenneth Sawe and Beatrice Ndaisi from the Alumni Affairs Office organised the mentorship talk with the students from the Faculty of Engineering. Jeff Anduvate, an alumnus of the university and a former chairperson of the Engineering Students Association (ESA) moderated the session. 
Eng. Jane is a passionate civil engineer, with over 20 years of experience. In her career, she has collaborated with UN bodies, national and international non-governmental organizations and government agencies (INGOs), as well as community-based organizations. These organizations include UNICEF, UNHCR, United Nations Office in Nairobi, World Vision Somalia, Oxfam Kenya, the Danish Refugee Council, and Lutheran World Federation, to name a few. She has actively contributed to humanitarian work, and offered engineering services in Water, Sanitation & Hygiene (WASH), Health, Education, Food, and Security. She is the founder and managing director of La Femme Engineering Services Ltd. (LFE). She registered LFE in Nairobi, Kenya to undertake engineering services within the region. Now, LFE has expanded regionally and comprises a team of 17 engineers, supported by surveyors, hydrogeologists, hydrologists, quantity surveyors, and other support staff. In the last 4 years, LFE has successfully offered services to the UN and several INGOs, and has been prequalified by UNICEF, Somali Stability Fund (SSF), United Nations Office in Nairobi (UNON). She also serves in various leadership roles across different organizations and societies i.e Vice Chair of Engineering Workforce Diversity & Capacity Building for the Women in Engineering Committee of the Federation of African Engineering Organization, served as the Chairperson of Technical Committee and currently the Chair of Human Resource Committee in the National Construction Authority. Recently, she served as the 1st Vice President for the Institution of Engineers of Kenya in 2018-2020. She has extensive experience in risk management, including the identification, implementation, and monitoring of risk responses, project management and report drafting. She is an alumna of UoN Class of 1990.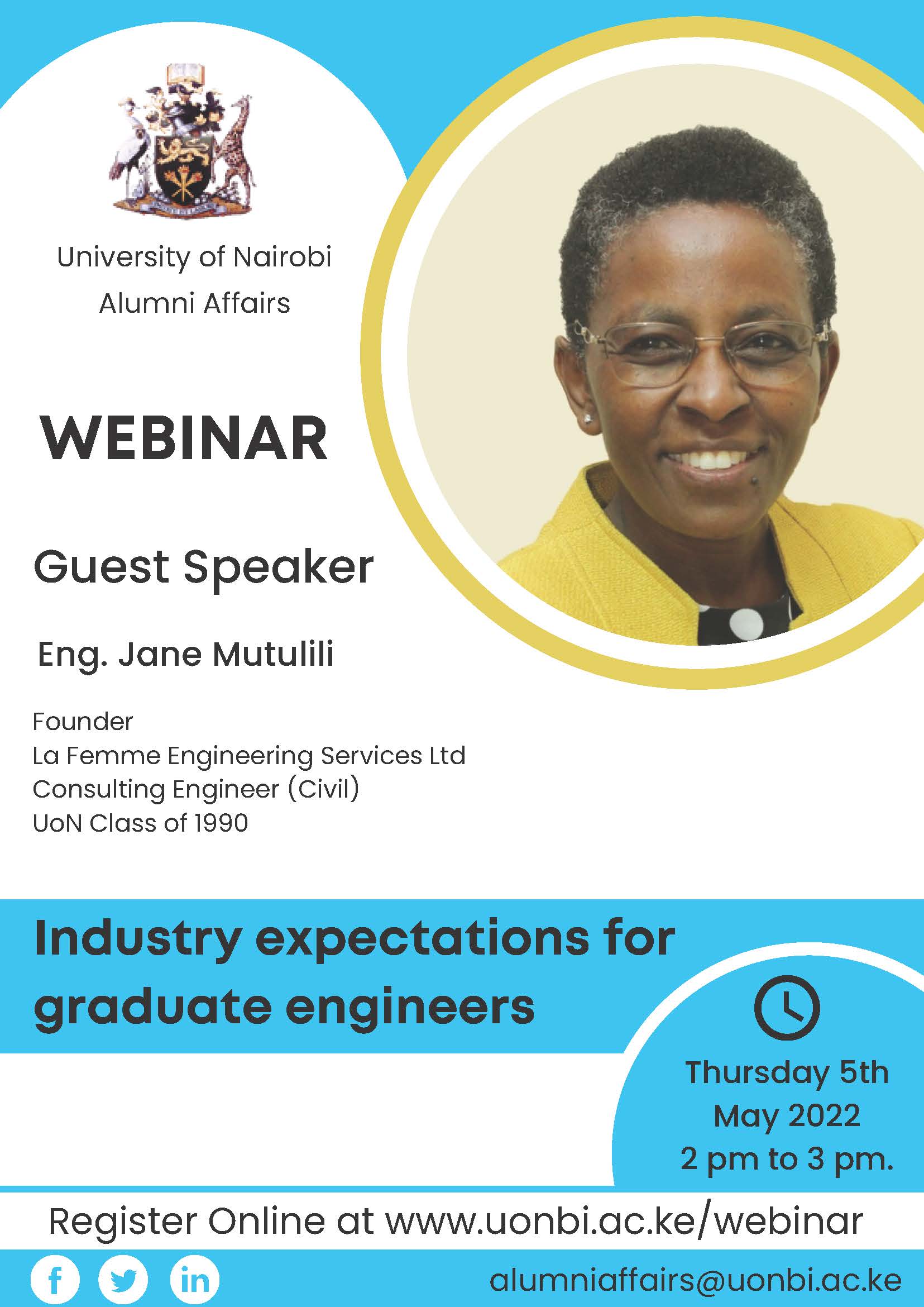 The event was attended by approximately 90 students. The Dean, Faculty of Engineering graced the event. Mr. Muthomi Munyua of the Department represented the Chairman, Dr. Eng. Simpson Osano.
A recording on the session can be accessed from from: https://us02web.zoom.us/rec/share/D8_xCVnUStY5HNJgti5mOMm6ao5lueXS6f-XrS-9-PvSDr8BSkNIwyjRepWKAXe-.h8GXoHTGcQvwsuJd