Recent civil engineering graduates with a passion for infrastructure development and a drive to make a difference are encouraged to apply. Henan Highway Engineering Group Co. Ltd (HEGO) invites you to be part of their dynamic team as  they embark on significant projects in Nakuru, Baringo, and Thika. This is a unique opportunity to launch your career and contribute to shaping the future of infrastructure in Kenya.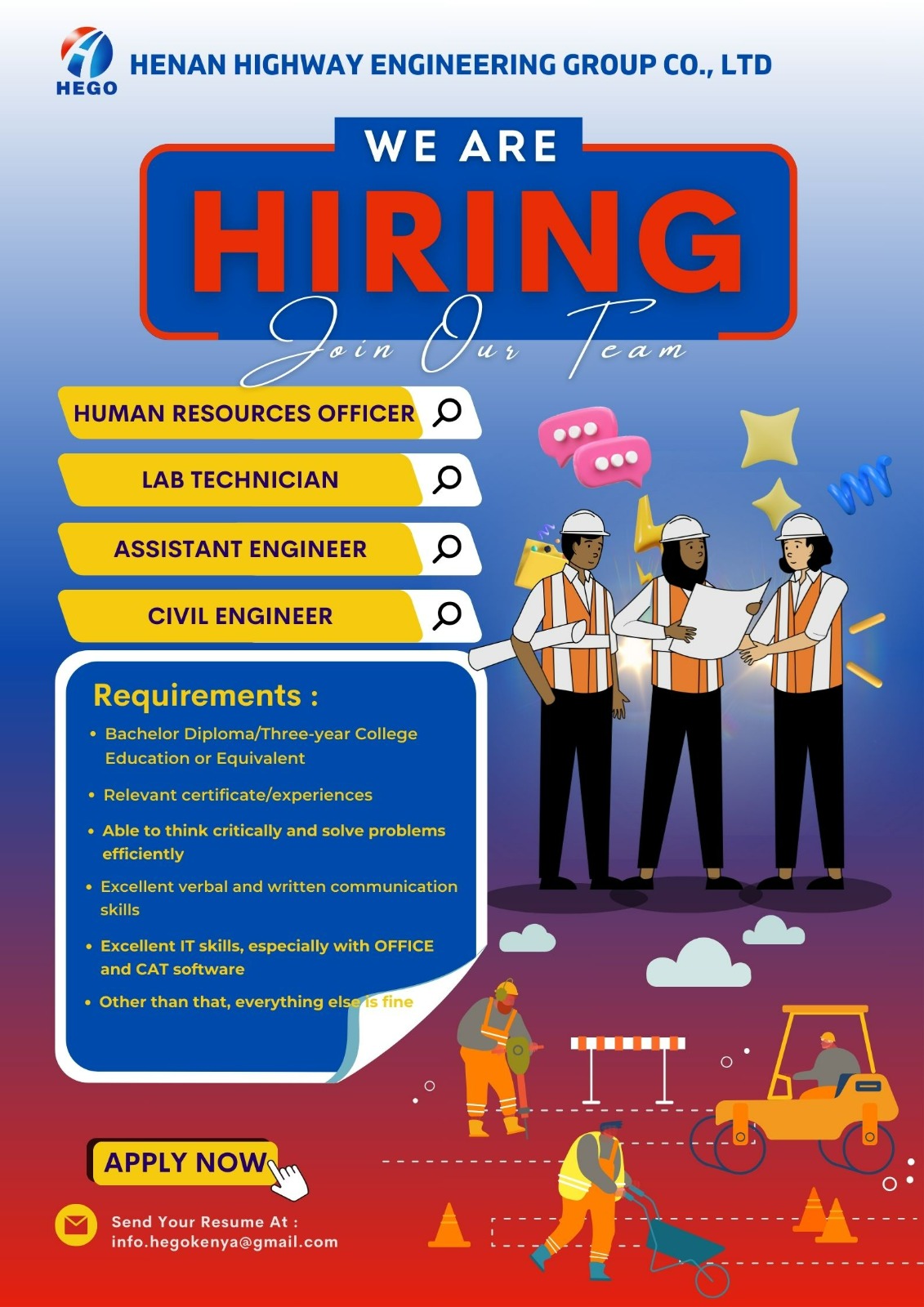 About HEGO:
Henan Highway Engineering Group Co. Ltd (HEGO) is a leading international construction company with a proven track record of excellence in the field of civil engineering and infrastructure development. 
Job Openings:
HEGO is currently seeking eight Assistant Civil Engineers to work on projects in collaboration with the Kenya National Highways Authority (KeNHA) and the Kenya Rural Roads Authority (KeRRA). This is a chance to gain hands-on experience and be part of projects that will leave a lasting impact on communities and regions.
Qualifications:
Bachelor's degree in Civil Engineering or related field.
Strong academic performance (first to fourth-year transcripts).
Excellent problem-solving skills.
Strong communication and teamwork abilities.
Eagerness to learn and adapt in a fast-paced environment.
Willingness to work on-site in Nakuru, Baringo, and Thika.
How to Apply:
Interested candidates are encouraged to apply for these exciting positions. To apply, please compile the following documents into one combined PDF file:
Signed Cover Letter detailing the position you are applying for (Assistant Civil Engineer).
Curriculum Vitae (CV) showcasing your educational background and any relevant experience.
First to Fourth-Year Transcripts.
Once you have these documents ready, please save them with a relevant name (such as Henan Job Application - Student Name) and email the compiled PDF to info.hegokenya@gmail.com.
Salary Negotiation:
Shortlisted candidates will be invited for interviews, during which you will have the opportunity to negotiate your salary based on your qualifications and experience.
For inquiries or more information, please contact us at info.hegokenya@gmail.com.